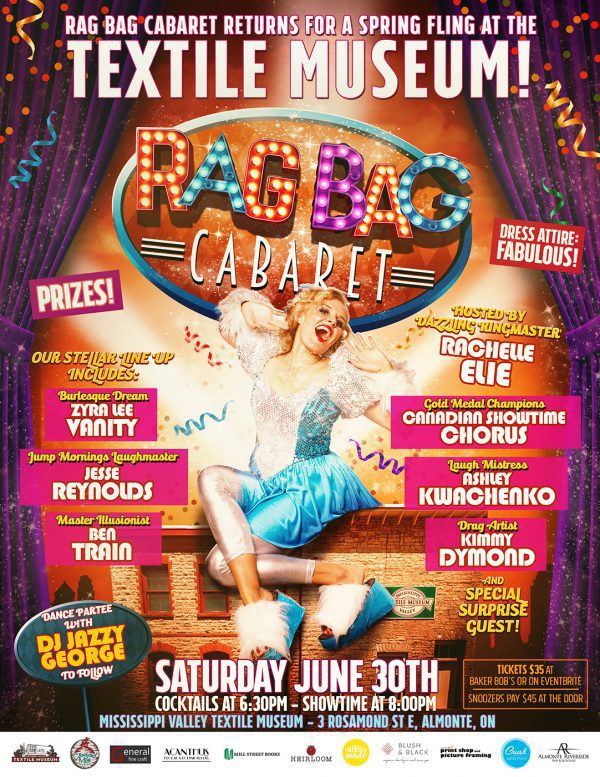 Rag Bag Cabaret returns for a Spring Fling at The Textile Museum! Why not take yourself out for some naughtiness & titillating fun? Hosted by Canadian comedy award nominee dazzling ringmaster Rachelle Elie. Our stellar line up includes:
Burlesque Dream Zyra Lee Vanity
Jump Mornings Laughmaster Jesse Reynolds
Master illusionist Ben Train
Gold medal Champions Canadian Showtime Chorus
Laugh Mistress Ashley Kwachenko
Drag Artist Kimmy Dymond & a fabulous special guest!
DANCE PARTEE with DJ Jazzy George to follow
A plethora of fantastic prizes to be won by local Almonte shops throughout the night!
Sat June 30th Cocktails at 6:30 pm
Showtime at 8:00 pm
Tickets $35 at Baker Bob's or here
snoozers pay $45 at the door
Mississippi Valley Textile Museum
3 Rosamond St E, Almonte, ON
Dress attire: FABULOUS
Become A Fan!
Sign up to Rachelle's mailing list to get updates on upcoming events, Rachelle news and more!