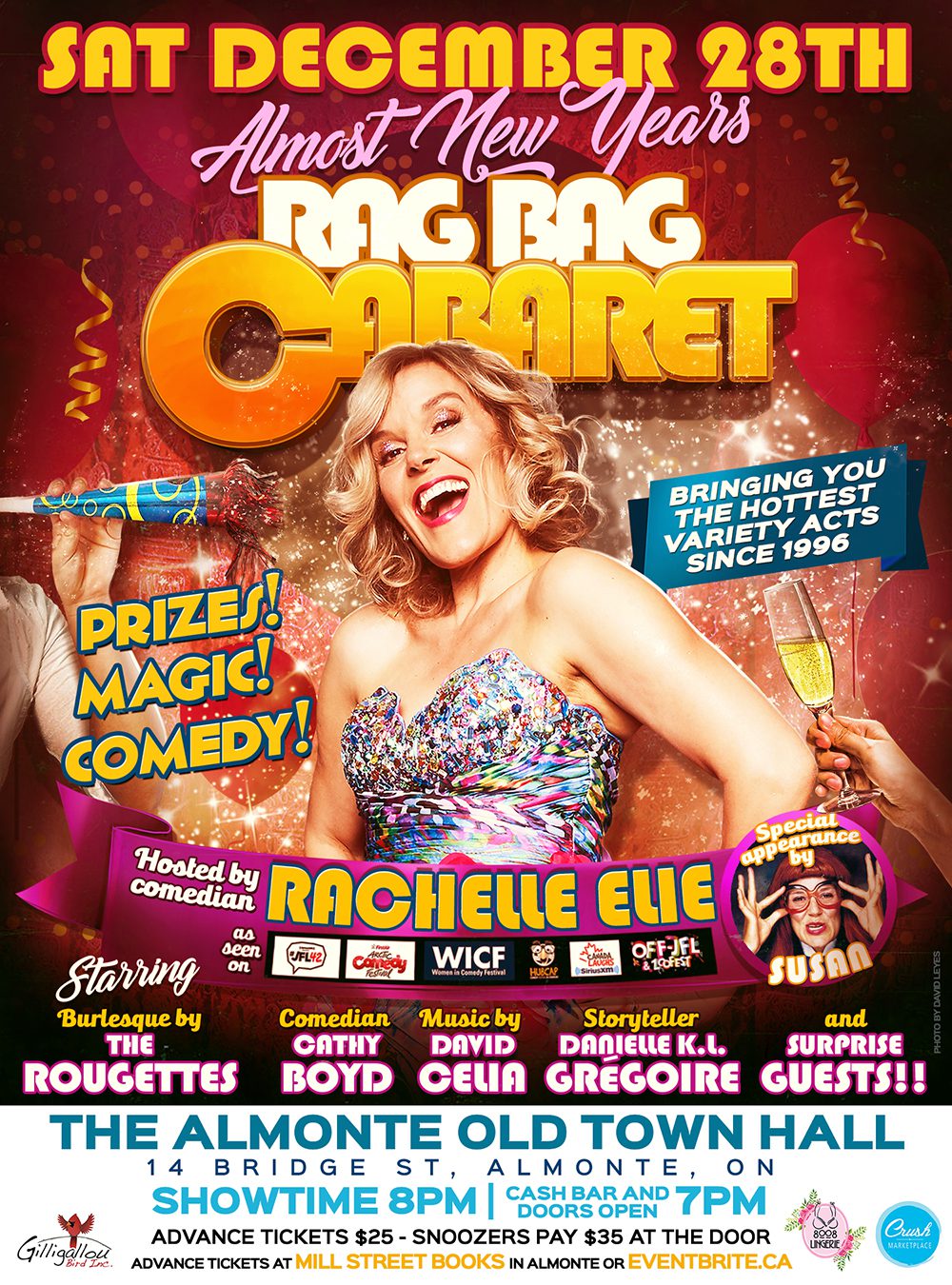 Rag Bag Cabaret in Almonte!
It's time for a Cabaret my friends! Comedian and award winning clown Rachelle Elie is back in Almonte hosting another fabulous event — and this time it's a Cabaret! The Almost New Years Rag Bag Cabaret will be on Saturday Dec 28th at 8:00pm at the lovely Almonte Old Town Hall. Hosted by Rachelle's alter ego SUSAN and other acts include Comedian Cathy Boyd, Burlesque trio The Rougettes and local storyteller Daniel K L Gregoire. More fabulous acts to be announced! Cash bar opens at 7:00 pm so come for pre-show cocktails. Tickets are $25.00 in advance from Eventbrite and Mill Street Books in Almonte.  Snoozers pay $40.00 at the door. Fabulous dress attire encouraged! A portion of the proceeds will be donated to the Canadian Association of Stand Up Comedians. You may even win a door prize from 8008 Lingerie, Galligallou Bird Inc & Crush. For more information about these and upcoming shows, visit <crowningmonkey.com>.
Rag Bag Comedy Cabaret started in 1996 and is Toronto's longest running Variety show. Samantha Bee, DJ Demers, Dave Merheje, Deanne Smith, Jessica Holmes, Sook-Yin Lee and Ali Hassan are just a few of the amazing talents that have been in our show. Rag Bag has been hosted at the National Arts Centre, The Toronto International Film Festival, The Ottawa Buskerfest and recently at The ZooFest OFF-Just For Laughs. Rag Bag Cabaret can come to you!!
Curated & Hosted by award winning comedian and Dazzling ringmaster Rachelle Elie every show includes some of the hottest variety acts our country has to offer including magicians, musicians, burlesque dancers, circus acts, comedians & more. Our Cabarets can cater to your venue needs and can easily be bilingual. We tell people these shows are Live and uncensored so leave the kids at home! An evening of titlating fun.