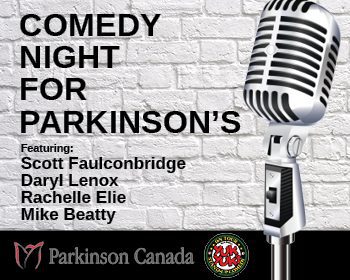 Comedy Night for Parkinson's
Parkinson Canada proudly partners with Yuk Yuk's once again for our annual fundraising event, Comedy Night for Parkinson's, guaranteed to make you laugh out loud! 
Featuring: Scott Faulconbridge, Daryl Lenox, Rachelle Elie, and Mike Beatty
Pre-show social and silent auction starts at 6:30 p.m. in the Atrium.
Are you feeling stressed? Buying tickets for our comedy night can fix that!!! Did you know that laughing relieves physical tension and stress, leaving your muscles relaxed for up to 45 minutes!!!! So come on out, support a great cause, laugh until your cheeks hurt, and bring your friends, April 12th!.
Comics hit the stage at 8:00 pm
Tickets: $40
TO PURCHASE ACCESSIBLE SEATING:
BY PHONE
BOX OFFICE
Telephone: 613-580-2700
Toll-free: 1-866-752-5231 
Fax: 613-580-2705
10 a.m. to 8 p.m. daily
IN PERSON
Centrepointe Theatres 
Monday to Saturday: 5pm to 8:30pm